Grey Hair Treatment: Is There Any Permanent Solution For Grey Hair?
Grey hair is natural as your hair goes through a dying and regeneration cycle. Once your hair follicles age, they produce less colour. Your genetics also determine your follicles' aging process, but you should know that there is no permanent grey hair remedy.
However, some women experience premature greying at an alarming rate. It is essential to understand that grey hair with age is normal, but a number of factors can cause premature greying. The most common cause is an unbalanced diet.
There are a lot of grey hair solutions which one can opt for. There are hair care programs and even grey hair home remedies you can try.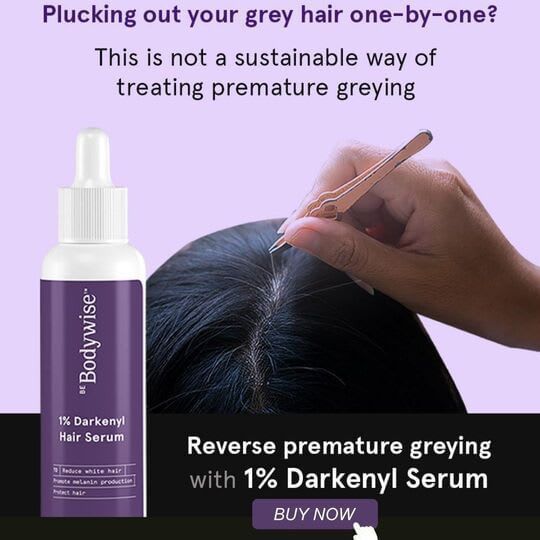 Grey Hair Remedy: What Are The Home Remedies For Grey Hair?
Coconut Oil for Grey Hair Treatment
How to Use Coconut Oil to Prevent Grey Hair?
Massage coconut oil on your scalp with gentle circular movements.
Do this every alternate day and rinse it usually the next day.
You will start to see the changes within a month or two, depending on the damage to your hair follicles.
Curry Leaves as a Grey Hair Home Remedy
How to Use Curry Leaves for Grey Hair?
Take a bunch of curry leaves and mix them with 2tsp of amla powder and 2tsp of Brahmi powder.
Take all ingredients and grind them.
Apply this paste to your scalp and roots.
Leave it for an hour, and then rinse your hair with herbal shampoo.
How does Curry Leave Help in Treating Grey Hair?
Amla strengthens your hair follicles and prevents pigment loss from hair. It also stimulates hair growth, making it one of the best home remedies for white hair, as you will be able to see noticeable differences in three to four months.
Onion Juice for Grey Hair
How to Use Onion Juice for Grey Hair?
You can use it for your grey hair cure by blending an onion and straining the mixture so that you are left with just the juice.
Rub this juice on your scalp twice a week.
Leave it for 30 minutes before rinsing with a mild shampoo.
Being rich in sulfur content makes onion an effective remedy. You will surely observe noticeable changes in a few months.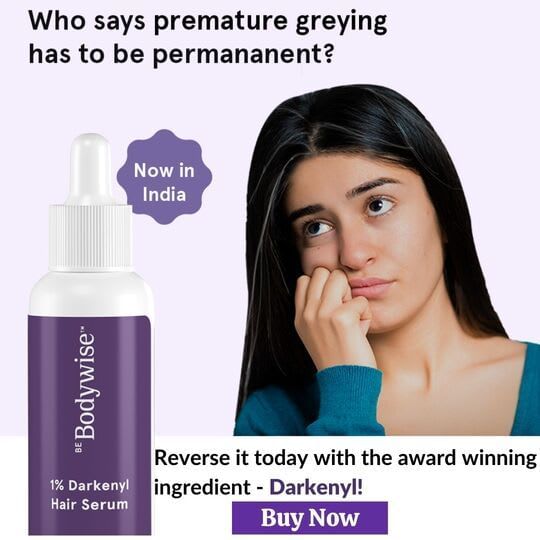 Henna Hair Pack For Grey Hair
It is one of the best home remedies for premature grey hair. This will be your instant grey hair treatment, as this pack will act as a natural dye.
You can mix henna with many things, but the best option is tea.
How to Use Henna Hair Pack For Grey Hair?
Boil two cups of water and add 2 tbsp black tea. Boil it until only one cup is left. Keep it aside to cool down.
Meanwhile, take beetroot and cut it into chunks. Add two cups of water to it and boil it until only one cup is left. Set this aside to cool down.
Once the liquids have cooled down, strain them together.
Add one cup of henna powder, one egg yolk, and one tbsp of coconut oil.
Mix all the ingredients to make a smooth paste and keep it warm.
Cover with wrap and let the colour mix for 4 to 5 hours, or overnight.
Apply it carefully on your scalp and roots.
Keep it somewhere between 1 to 2 hours.
Wash it off with herbal shampoo.
Ayurvedic Treatment For White Hair
Ayurveda offers a lot of treatment options like ayurvedic oil for white hair. There are some home remedies for grey hair treatment in Ayurveda as well.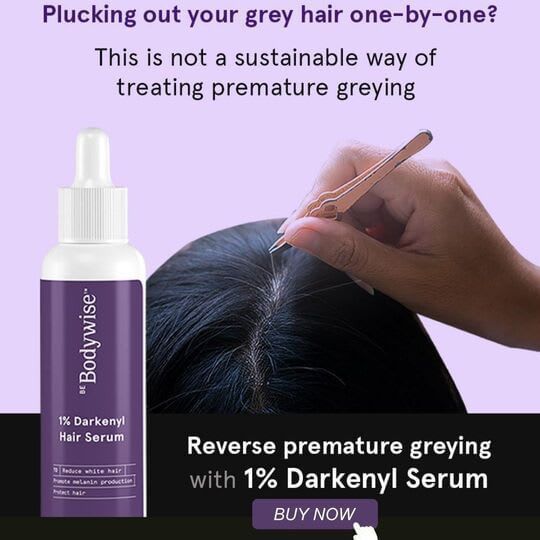 Amla as a Grey Hair Cure
How Does Amla Help in treating Grey Hair?
A rich source of vitamin C, amla, increases your body's antioxidants. It also has antifungal properties that prevent dandruff.
How to Use Amla for Grey Hair?
You can drink 30ml of amla juice every day or look for white hair treatment oil made from amla. In both cases, you will be able to see noticeable differences within a few weeks.
Ghee is a Permanent Solution for Grey Hair
Ghee plays an important part in various medicines in Ayurveda. It seals moisture within the scalp and promotes good hair health. It is also a very effective medicine for grey hair.
How to Use Ghee for Grey Hair?
All you have to do is massage your hair and scalp with pure ghee. Do this two times a week and see the difference in a month.
Homoeopathic Medicine For Grey Hair
If you have a hectic life, you might want a grey hair solution that is easy and quick. For that, you can opt for homeopathic medicine for white hair.
Some of the medicines that you can try are:
Lycopodium as a Grey Hair Solution
If you wonder how to stop hair whitening, then Lycopodium is the right option for you. It works naturally and harmlessly to stop the greying of hair.
Note: If you experience gastric or constipation problems while consuming this medicine, consult a doctor.
Phosphorous as a Grey Hair Solution
This medicine works well for reversing the process of grey hair. It further helps with dandruff, hair fall, and even an itchy scalp. However, people taking this medicine might have a peculiar desire for having cold drinks, ice cream, and juices.
Note: It is essential to consult a general physician or a dermatologist before consuming these medicines.