Have you ever felt confused in the makeup aisle trying to determine the best products to match your skin tone? We hear you. This is just one of the many struggles women with an uneven skin tone have to face. However, these decisions will no longer be time-consuming. Read on to discover the best treatments for an uneven skin tone for one less skin worry!
Causes Of An Uneven Skin Tone On The Face
There are many reasons for uneven skin tone. Here are some primary reasons according to research:
High sun exposure (which causes tanning)
Hormonal changes and imbalances
Stress and depression.
The overproduction of melanin
Nutritional deficiencies
Environmental factors like sun damage, pollution, etc
Skin disorders
How To Determine Your Skin Type
It's challenging to know what skin type one has because it can change frequently. It changes with the seasons, years, and with age too. You can touch and observe your skin to better understand what type of skin you have.

Cleanse your face
Let your skin remain untouched without any products either overnight or for an hour.
If you notice that your skin is smooth and there is no sign of grease or oil, your skin type is 'normal'.
If you feel oil and grease and see shiny patches on your face, you have 'oily' skin.
If your skin is shinier in the T-zone, which is the central part of the face, and the rest of your face isn't oily, you have 'combination' skin.
If you feel that the skin is flaky, dry, rough, and stretchy, it's classified as dry skin.
The next skin type is 'sensitive', defined by having dehydrated and reactive skin. This can be sensed when you apply a product, and your skin develops redness, rawness or any other abnormal reaction.
Also read: Pigmentation removal
Uneven Skin Tone Prevention
Don't rub or scrub the skin often
Opt for a healthy skincare routine
Exercise regularly
Eat healthy fruits and vegetables with bright colours which provide antioxidants
Cleanse and moisturize daily
Avoid direct sunlight
Test every product before application and avoid products that trigger skin irritation.
Home Remedies For Uneven Skin Tone

Exfoliate your skin regularly
It is one of the most accessible home remedies for an even skin tone. Take ½ spoon of tulsi leaf powder + ½ spoon of neem leaf powder and one spoon of Multani Mitti. Mix it with rose water to create a paste. Apply the paste on your face, let it rest for 20 minutes, and then wash it using warm water.
Benefits: Studies have found that Multani Mitti is a good source of magnesium chloride, which has cooling properties that heal sunburn and remove dead skin cells. Whereas neem and tulsi powder helps tighten facial pores and removes impurities.
Precaution: Don't use it daily as excess amounts can harm your skin. You can apply it once a week.
Skin lightening face mask
One teaspoon each of orange juice and turmeric. Mix well and apply it to your skin. Let it dry for 10 minutes, and then rinse with cold water.
Benefits: Research has found that turmeric offers skin lightening agents, which soothes and adds therapeutic benefits to the skin, whereas orange helps reduce pigmentation and makes your skin glow.
Hydrating mask
Grate ½ cucumber and keep it in the fridge for an hour. Add the juice of ½ lemon and apply it to the face. Leave it on for 15 minutes, then use cold water cotton pads to clean it off.
Benefits: This mask gives you glowing, calm, and even skin tone by reducing inflammation and pigmentation. It works well on dark circles.  
What are the other Uneven Skin Tone Treatments available?
Chemical peels exfoliate the upper layer of the skin and remove your tan
Glycolic acid or salicylic acid-based depigmentation creams.
Q switched Nd YAG lasers
Natural amino acid serums like Skinceuticals Phyto Plus
Apply sunscreens like Neutrogena Sunblock SPF 60

Uneven Skin Tone Products
Olehenriksen C-Rush Brightening Gel Crème
Kiehl's Super Fluid Daily UV Defense SPF 50
EltaMD UV Clear Broad-Spectrum SPF 46
Uneven Skin Tone Before And After
When you give your skin the care it needs, pigmentation and dark patches reduce. Here are some pictures to show us how the skin looks before and after treatments and remedies.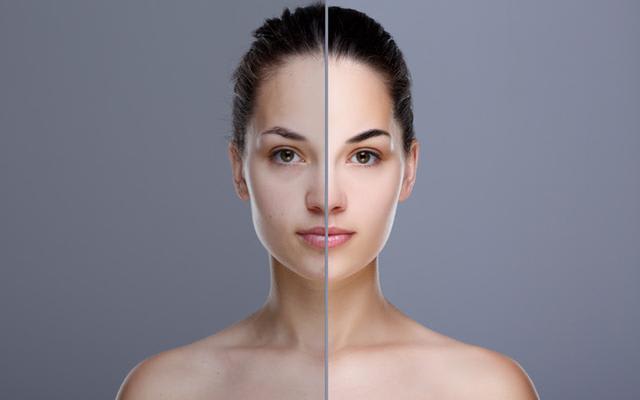 So Can You Get Rid of An Uneven Skin Tone?
Yes! And this blog proves it. Providing your face with adequate hydration and moisturization is the best way forward. Using sunscreen and following your skincare regime more often than not is also a good idea. Evenly toned skin is no longer unattainable!
Also read: How to do a patch test- A complete guide
FAQs


How Can I Fix Uneven Skin Tone Naturally?
Try and maintain a good skincare routine that suits your skin type
Stay hydrated and follow a balanced diet
Do asanas to destress and exercise every day for at least 30 minutes
Does Uneven Skin Tone Go Away?
Yes, you can get rid of uneven skin tone. To begin, you can consult a dermatologist who will be able to customize your skin routine.
What is the Best Treatment for Uneven Skin Tone?
There are many treatments that you can use to combat an uneven skin tone. You can try natural, uneven skin tone home remedies to avoid chemical exposure. You need to combine it with a healthy lifestyle. That means eating healthily and exercising regularly.
Is Vitamin C Good for Uneven Skin Tone?
As per studies, Vitamin C has antioxidant properties and therefore plays a vital role in preventing skin tissue and cell damage.
References

Yoon Jee Kim, Kyu Uang Whang (2012) Efficacy and Safety of 1,064 nm Q-switched Nd: YAG Laser Treatment for Removing Melanocytic Nevi (Annals of Dermatology) https://www.ncbi.nlm.nih.gov/pmc/articles/PMC3346906/
Jasmine C. Hollinger, Kunal Angra (2018) Are Natural Ingredients Effective in the Management of Hyperpigmentation? A Systematic Review (The Journal of Clinical and Aesthetic Dermatology) https://www.ncbi.nlm.nih.gov/pmc/articles/PMC5843359/
Rashmi Saxena Pal (2017) In-House Preparation and Standardization of Herbal Face Pack (The Open Dermatology Journal) https://www.researchgate.net/publication/320900643_In-House_Preparation_and_Standardization_of_Herbal_Face_Pack
Erica C. Davis, Valerie D. Callender (2010) Postinflammatory Hyperpigmentation (The Journal of Clinical and Aesthetic Dermatology) https://www.ncbi.nlm.nih.gov/pmc/articles/PMC2921758/