Sesame may seem like your everyday household and kitchen ingredient. But how many women know that it works absolute wonders for your hair?
Is Sesame Oil Good For Hair?
Of course, it is! Sesame oil is a popular dandruff treatment option, often used to clear the scalp of harmful fungi and bacteria. Sesame oil also has occlusive properties that help close your scalp skin pores and aid moisturization. One can treat dryness, itchiness and inflammation of the scalp through correct sesame oil usage. Research suggests that sesame seed oil has been used in various ayurvedic treatments for hair loss.
How to make Sesame Oil
You can obtain sesame oil benefits for hair while making it at home.
Toast 2-3 cups of sesame seeds in a frying pan on medium heat. Once it turns golden brown, mix it with any cooking oil you prefer. You can even blend it with warm water to make a fine paste.
Transfer the runny paste into a cheesecloth and let it sit for a while. Once the water settles down, you can find traces of oil over it. Freeze it up to separate the oil from water as sesame oil is lighter than the other oil that you used.
Also read: Coffee oil benefits and how to use it
Benefits Of Sesame Oil For Hair
Boosts hair growth: The two antioxidants, sesamol and sesamol, in sesame seeds have a powerful impact on one's health. You can extract sesame seeds benefits for hair while gently massaging the scalp and hair ends.
Prevents dandruff: The antifungal and antibacterial properties of til oil for hair keep the hair scalp healthy and clean. Moreover, a clean scalp helps fight itchy sensations.
Stops premature greying: Its hair darkening trait helps your hair retain natural hair tone, thereby preventing premature greying. Massage your hair frequently for better sesame oil benefits for hair.
How to use sesame oil on hair
Being an excellent absorber, use sesame oil with different essential oils or treatment oils to extract sesame oil benefits for hair.
Gently massage the hair while combining it with neem oil or almond oil. Use it with coconut oil as it provides better nourishment and hair conditioning. Combine equal parts of coconut oil and sesame oil and massage your hair.
Leave it on for 30-40 minutes and rinse it with a mild cleanser or shampoo.
How to use sesame oil for thicker hair
Warm up the sesame oil and gently massage your scalp.
Coat all of your hair strands with it.
Cover your hair with a warm towel or shower cap.
Leave the oil mask for at least 1 hour for deep conditioning.
Wash with mild shampoo and conditioner.
Hair mask recipe
Use black sesame seeds for hair (as an oil) with a general hair mask
Use a few drops with yoghurt
Use sesame oil with other nourishing oils like argan oil, olive oil, or avocado oil.
Sesame seeds contain Vitamin E, B complex, and essential minerals like magnesium, calcium, and phosphorus that provide strength to the hair.
Sesame Oil for Hair Growth Before and After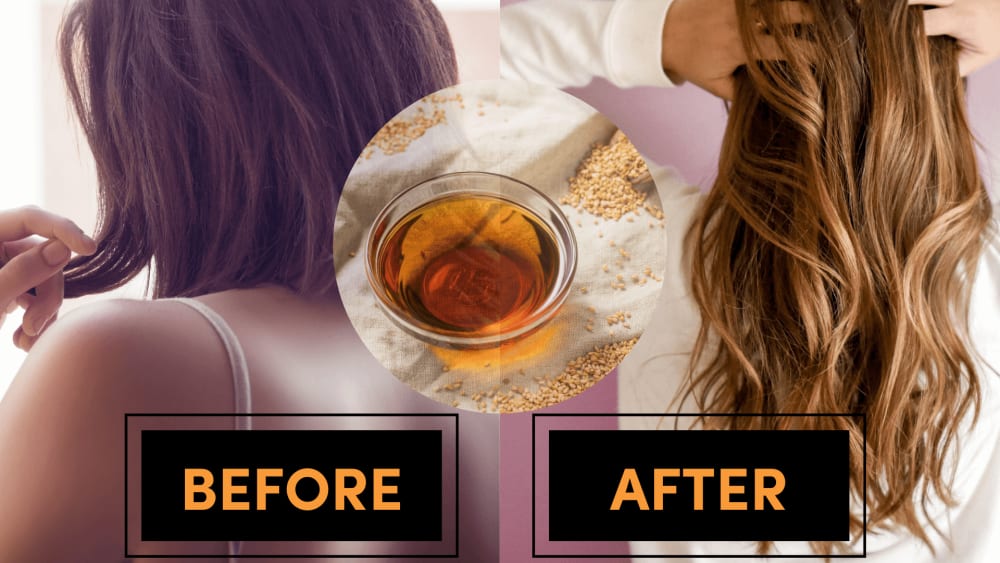 Black Sesame Seeds For Hair Benefits & Uses
According to Chinese Medicine, black sesame has anti-ageing properties.
Apart from stimulating one's hair growth, black sesame seeds for hair boost melanocyte activity. What is melanocyte activity? It is the process of melanin production, a pigment for skin and hair colour.
You can sprinkle the roasted seeds on salads or sandwiches and enjoy the wholesome snack with nutritional benefits. However, store the seeds or sesame oil in an air-tight container to avoid them turning rancid.
In A Nutshell: Does Til Oil For Hair Really Work?
Til oil or sesame oil is a great alternative to expensive, medical hair health treatments often accompanied by harmful side effects. Sesame oil aids hair growth, eradicates dandruff and helps slow down premature greying of hair. However, make sure to consult a dermatologist before trying new treatment on your hair. If used correctly, sesame oil can serve as a boon for your locks!
Also read: Top grey hair treatment to stop white hair from spreading
FAQs

Can we use sesame oil for hair daily?
Nutritionists recommend eating 10-15 grams of sesame seeds daily. But, using the oil daily may cause scalp pores, leading to irritative skin and scalp.
Use the oil on the scalp and hair for a shorter duration instead of leaving it overnight. You can wash it off thoroughly after one hour. Experts recommend using warm water for rinsing the hair.
Moreover, if you use lukewarm oil (at least two times a week), it relieves your scalp. An oil that is too hot can damage hair follicles.
Does sesame oil increase hair growth?
The different nutrients present makes sesame oil good for hair. Vitamin E, B complex and minerals nourish the hair shafts and follicles. Well-conditioned and highly nourished hair promotes hair growth.Moreover, it also heals damages caused due to chemical-oriented hair treatments.
Which oil is best for hair: coconut or sesame oil?
Both coconut oil and sesame oil are crucial for hair growth and nourishment. There are many til oil benefits for hair, and extracting the oil properly is necessary for you to get good results. Coconut oil relieves burning sensations and wounds. Sesame oil improves hair quality and prevents premature greying. Both oils have their pros and cons but you can try them both and see what works for you!
References
Jiradej Manosroi (2015) 5α-Reductase inhibition and melanogenesis activity of sesamin from sesame seeds for hair cosmetics (Chiang Mai Journal of Science) https://www.researchgate.net/publication/281996352_5a-Reductase_inhibition_and_melanogenesis_activity_of_sesamin_from_sesame_seeds_for_hair_cosmetics