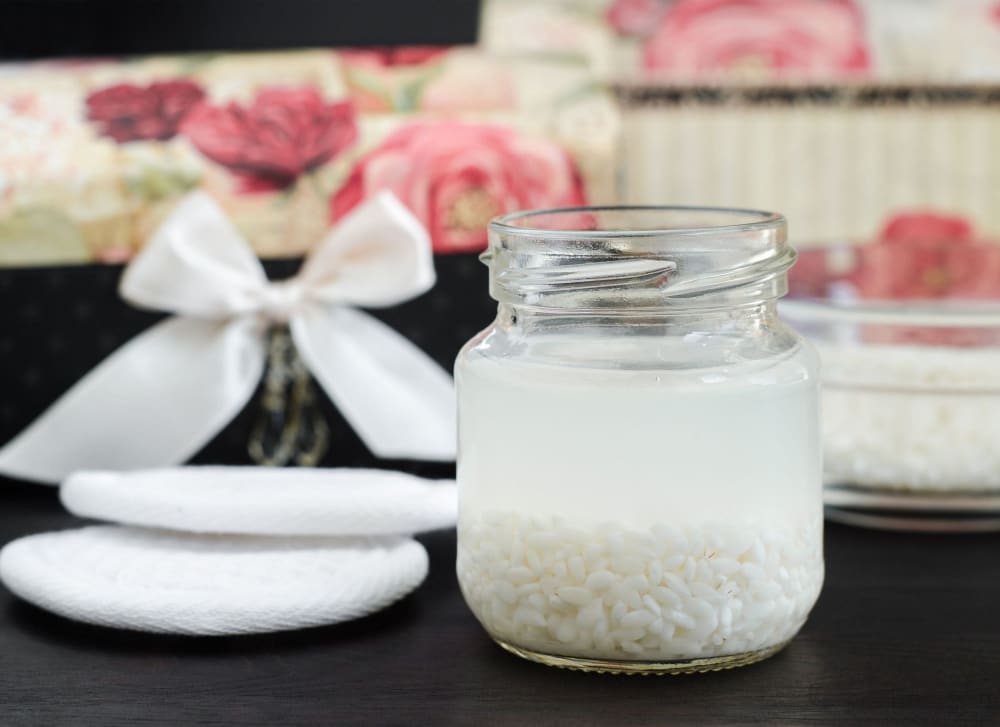 Are There Any Side Effects of Rice Water
Nothing in excess is good. While there are several rice water benefits for hair and skin, this natural ingredient has side effects too. Read on to know more about rice water side effects.
Can Rice Water Damage Your Hair
Yes, rice water can damage your hair.
The starch in rice water can react and damage your hair locks and skin by building upon them after rinsing. The fermented starchy water is acidic, which, when used in the right amount, restores and balances the pH of your hair. But, if used in excess, it can damage the overall condition of your hair and skin.
Rice water can make your hair and skin feel dry and stiff. This effect is observed due to the protein content of rice water. The protein molecules in rice are too large to soak into your hair. These proteins coat the surface of the hair, which is not necessarily a bad thing.
Using too much too often can cause rice water side effects like blocking your hair from receiving the right amount of moisture. That's why, to be on the safer side, rice water for hair treatment should be used in moderation.

You can decide the frequency of using rice on your hair according to the porosity. We have discussed it ahead in this article.
Top Side Effects of Rice Water on Hair That You NEED To Know
It can make your hair frizzy and brittle
It leaves a foul, pungent smell
The coating of protein stacked on your hair makes it harder for moisture and nutrients to pass through it
It causes dry scalp due to the overproduction of yeast in your scalp. The starch content in rice water mixes with yeast and can make your hair condition worse
Adding too many essential oils in the rice water concoction in large quantities may prevent other nutrients from getting absorbed in your hair follicles
Frequent use of rice water treatment can damage the texture of your hair  

Top Side Effects of Rice Water on Skin That You NEED To Know
Excessive use of rice water can cause dry, flaky, and itchy skin
It can even cause some adverse effects like red rashes and streaks on the skin
If there is an open wound on the skin, the application of rice water can incur infection
It triggers skin irritation for people with allergies to rice

Top Unknown Side Effects of Rice Water on Face
People with rice allergies experience swelling in the face and throat and difficulty in breathing after rice water treatment
It can cause itchiness, redness, and dry patches on the face when not used as per recommendation
It can make your face look puffy for a couple of days
It sometimes enhances more facial hair growth than normal and makes your face look flaky and dry
Can I Leave Rice Water in My Hair
No, one should not leave rice water in their hair. When left for long, it starts fermenting, and there is bacterial and fungal growth when rice water gets mixed with sweat. A denser concoction can be made, which is easy to apply. But the denser the rice water's consistency, the more quickly it gets spoiled.  

The protective coat offered by protein molecules in rice water eventually dries and hardens your hair. It keeps on adding new layers of protein to your hair when you leave them without washing in the hope of smooth and silky hair. They create a bad case of protein overload and a starchy, crusty effect.

If you have high hair porosity, you should wash it with rice water treatments only once a week. If your hair is not too porous and has a fine texture, you may want to schedule your rice water treatments only once or twice a month.
Is Using Rice Water Worth the Effort & Benefits?
Yes, using rice water is worth the effort and benefits. Using rice water in moderation and once in a while for hair health may not invite any risks. However, the side effects of rice water on hair are visible only after excessive use. It can have a drying effect eventually that can damage the condition of hair and skin. Therefore, women with dry scalp especially should not overuse it.
Furthermore, there are drastic effects when the rice water treatment is not done properly. Experts recommend using it no more than once or twice a week or month as per the porosity of your hair and skin.