What Is Amla Powder?
Amla powder consists of Indian Gooseberry leaves that are grounded. Ayurvedic medicine has used this remedy for decades to treat medical conditions like jaundice and diarrhea. However, Amla's most widely known benefits constitute ultimate hair health.
Amla Powder Benefits for Hair

Suitable for all types of hair, Amla powder offers a range of hair benefits. Here take a glance at a few of the significant hair benefits obtained by using amla powder:-
1. Strengthen Your Hair Follicles

Applying Amla powder for hair on the scalp helps improve blood circulation and prevents hair fall by strengthening hair follicles. Even using Amla oil also offers the same benefit. So if making a paste of amla powder for hair growth seems like a hassle, you may opt for ready-to-use Amla oil.
2. Prevents Dandruff

Amla powder for hair is equipped with antibacterial and anti-inflammatory properties and is also capable of raising sebum production. The application of Amla powder helps in keeping dandruff and scalp itchiness at bay. You can apply amla powder paste twice on the scalp to get the best results.
3. Promotes Hair Growth

Amla is rich in vitamins, minerals, phytonutrients, and minerals, which is why there are numerous amla powder uses for hair growth. Its paste nourishes hair, thus stimulating hair growth while reducing hair thinning. Vitamin C in amla herb produces collagen protein that helps in stimulating hair growth, both volume-wise and length-wise, by replacing the dead cells related to hair follicles with new hair cells.
4. Delays Premature Greying

Rich in vitamin C, consumption and even application of Amla powder not only results in a healthier scalp but also tackles the problem of premature greying of hair. Yes, you can use amla powder for grey hair and amla powder for white hair. It also reduces oxidative stress that triggers many hair problems. To maintain the natural hair colour, it is a cost-effective solution.
5. Prevents Hair Dryness

One of the major amla powder benefits for hair is that it can strengthen, nourish and even condition hair being a good toner and natural hair conditioner. Therefore, it makes the hair shiny and adds volume to the hair by making the hair resistant to hair dryness by restoring moisture. In addition, it is also useful in treating the problem of excess scalp oil by soaking the extra oil besides conditioning the hair thoroughly. Also, a paste made of amla powder and aloe vera for hair is also beneficial in preventing hair dryness.
6. Boost Hair Volume

Enriched with an array of essential fatty acids and a high level of iron and carotene, Amla strengthens hair follicles. In a way, the usage of amla powder for hair growth is apt since it makes it shiny and voluminous.
7. Cleanses Scalp

Amla contains diverse antioxidants that shield hair from a range of hair damage triggered due to pollution, dust, smoke, and a range of hair styling tools. In addition to this, Amla powder also contains anti-microbial properties. Thus, it helps keep the scalp clean and healthy.

Also read: Amla murabba benefits
👋Say Bye Bye To Dandruff👋
Want to get rid of dandruff? Use our Ketoconazole Shampoo with Salicylic Acid co-curated by Doctors to fight off stubborn dandruff & itchy scalp. Get⚡FLAT 20% OFF with Code: BLOG20⚡
Amla Powder for Hair Growth
One broadly recognises Amla powder as a hair growth remedy. The Vitamin E content in Amla enhances blood circulation to the scalp, providing hair follicles with a fresh oxygen supply. Applying Amla powder topically may help scalp skin regeneration necessary for healthy locks.
How to Use Amla Powder for Hair Growth? Amla Powder Uses
One can use amla powder for promoting hair growth, fighting hair loss, and strengthening their hair. Its high iron and carotene content stimulates hair growth.
To make an effective recipe for improving your hair growth, mix Amla powder with herbs that further enhance and improve your hair growth.
Pro Tip: The best way to use amla powder for hair growth is to mix herbs like reetha and shikakai.
Here's a step-by-step process -
Mix two tablespoons of amla powder with two tablespoons of reetha and shikakai powder each
Now add water to make a paste. Make sure that it doesn't become too watery
Apply the paste along your hair strands and leave it on for 30 minutes
Proceed to wash it off with water and use a mild shampoo after rinsing off the paste
🛑 Stop Hair Fall Now 🛑
Use 1% Redensyl Hair Oil that helps stops hair fall by nourishing the scalp with protein and antioxidants to promote speed up hair growth with NO side effects. Now at FLAT 20% OFF!👇
How to Use Amla Powder for Grey Hair (or White Hair)?
We get it; spotting greying hair can be frustrating for you. So, how do we make use of Amla powder for grey hair?
Our answer to how to use Amla powder for white hair includes making a paste using just the right amount of amla powder and henna powder.
Here are the easy steps for preparing this mix -
Mix 3 tablespoons of amla powder and four tablespoons of henna powder along with water. Make a paste out of it that is neither too thick nor too watery.
Then leave it aside for 30 minutes.
Now apply the mix to your hair roots.
Leave it for 30 - 45 minutes and then wash off.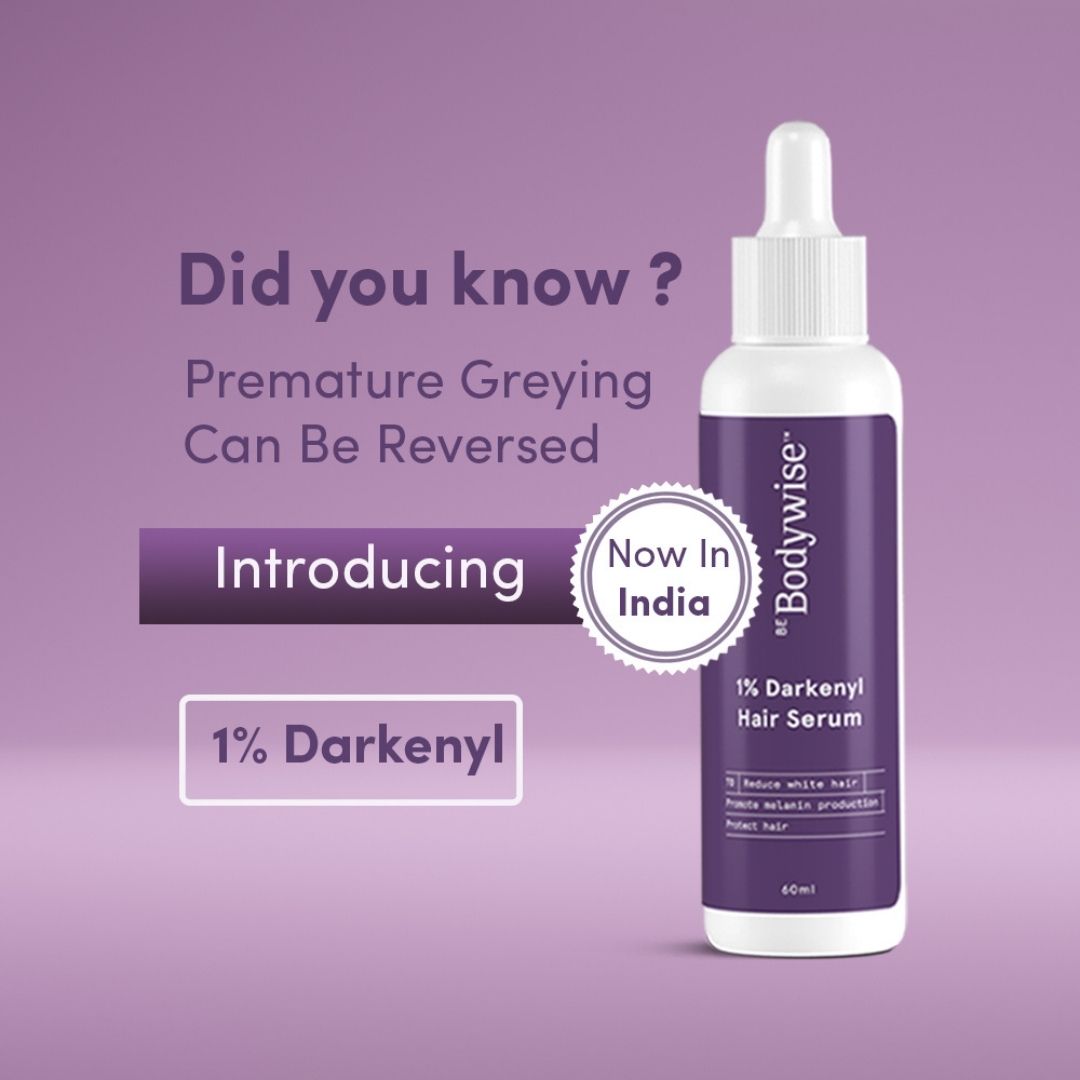 Reverse Premature Grey Of Hair Now!
Use our 1% Darkenyl Hair Serum that helps reduce grey hair from premature greying with ZERO side effects.Now at 11% discount. Use BLOG20 to avail Extra 20% OFF at checkout!👇
How to Eat Amla Powder for Hair Growth?
Amla powder's uses are aplenty! You can directly consume it by mixing it in water and having it in the morning. You can also take it with a spoonful of honey or with jaggery.
Amla Powder and Coconut Oil for Hair
Mixing up Amla powder and coconut oil can make for a potent hair tonic. Coconut oil has various vitamins and essential fatty acids that promote hair growth, reduce sebum build-up on the scalp and deep condition your hair.
Using the combination of Amla powder and coconut oil has the following benefits for your hair:
Helps in fighting grey hair growth
Reduces hair loss
Repairs damaged hair and split ends
Improves your hair colour
To make this wonder tonic, follow the steps listed below -
Take two tablespoons of coconut oil and one tablespoon of olive oil and mix them in a bowl.
Heat the mixture and then add two teaspoons of amla powder to the mix.
Now let the mixture cool down.
After the mixture cools down, drain it using a muslin cloth.
Now part your hair and apply the tonic on your scalp (Make sure you get every part of the scalp)
Massage your scalp thoroughly for approximately ten minutes
Let the mixture stay for at least half an hour, and then wash off with a mild shampoo (sulfate-free)
Uses of Mixing Amla Powder and Aloe Vera for Hair
This combination is the perfect source of antioxidants for your hair. It will curb the harmful effects of free radicals and also repair any hair damage you might have.
How to prepare the best natural hair mask using Amla and Aloe vera?
In two simple steps -
Start by taking Amla powder and aloe vera pulp in equal quantity
Mix these two ingredients till you get a paste (not too thick)
And voila! That's your hair mask.
Once prepared, apply it to your scalp without missing a spot. Then move on to your hair strands and apply the mask there too. Leave it on for 30 minutes, and then wash off with a mild shampoo.

Our Tip: Use this mask at least once a week to get the best results.
What Research Says About Amla Powder
Studies have proved Amla powder to be more effective than Minoxidil for hair growth in specific conditions. Moreover, herbal mixtures, including Amla, aid women to regrow lost hair as well.
Does Amla Powder have Side Effects?
Amla is a remedy found in nature. Hence, by default, it has little to no side effects. However, women who are allergic to Amla may experience irritation or hives on their scalp post usage. Moreover, pregnant and breastfeeding women must consult a doctor before applying Amla anywhere on their bodies.
Summing Up Why to Use Amla Powder on Hair
Using Amla for your hair is like treating your locks to an Ayurvedic remedy for hair loss as well as an assistant in new hair regrowth. Amla, when used correctly, improves hair quality, density and volume.

Also read: Amla juice benefits for females
FAQs
Can I Apply Amla Powder Directly on Hair?

Yes, Amla powder can be applied directly on hair as it is believed to be safe for direct application since it is a natural herb. You can mix amla powder and coconut oil for hair or can mix amla powder with any other suitable ingredient for hair growth to enhance its benefits.
What Can I Mix With Amla Powder for Hair Growth?

Amla can be mixed with Shikakai, Reetha, Hibiscus, Coconut oil, Curry leaves, Lemon juice, Honey, and Olive oil to obtain the best hair benefits.
Can Amla Powder Regrow Lost Hair?

Yes, Amla powder can help regrow lost hair. Amla is equipped with a high concentration of various nutrients like Vitamin C, Vitamin E, Tannins, Iron, Calcium, Phosphorus, and varied other Polyphenols, which helps regrow lost hair. Vitamin E, featuring antioxidants, promotes healthy blood circulation, thereby reviving damaged hair follicles.
Does Amla Powder Make Hair Thicker?

Yes, Amla is rich in Vitamin C, Vitamin E and many other nutrients that help make hair thicker by nourishing hair follicles.
Can I Use Amla Powder on My Face?

Yes, you can use amla powder on your face. Amla is good not just for hair but for skin and nails as well. You can use Amla powder on your face to slow down skin ageing as it rebuilds the cells from within and boosts radiance since it is equipped with Vitamin C.
References
Pooja S. Banerjee, Megha Sharma (2009) Preparation, evaluation and hair growth stimulating activity of herbal hair oil (Journal of Chemical and Pharmaceutical Research) https://www.jocpr.com/articles/preparation-evaluation-and-hair-growth-stimulating-activity-of-herbal-hair-oil.pdf